Magic Bean Plants: Message Beans With Words On Them
Magic bean plants are popular products around the world.  Children and adults alike love receiving these unique gifts that display a special message as they grow.
And what makes these gifts stand out, is the fact that they literally keep on giving:
An engraved bean, becomes
A sprouting plant, which reveals
A special message and image, which then becomes
A flowering plant, which then produces
A pod of beans, and then continues to grow into
A tall, luscious bean vine
The white beans (also known as Jack Beans) are commonly given as gifts for special occasions and holidays. Once planted, the message bean will grow to reveal the secret message in approximately 3-10 days.
The message first appears on the outer seed coat and then, without coaxing, the seed coat will fall off in 1-2 days to reveal the inner bean boasting its special magic message for all to see.
It really is an amazing plant. Kids love to water and take care of these magic bean plants too.
The magic bean plant seedling proudly carries its amazing message for several weeks before the message dries up and falls off. Many people transplant the bean plant into a largeer pot or into the ground to grow.
The fast growing vine will climb and quickly cover a trellis, fence or a wall. The message bean plant will continue to grow for several years if it is grown in a warm climate, or kept indoors in a cooler climate.
Here are a few ideas on how you can send somebody a message:
Send a Secret Message
Imagine the look on your loved one's face when you give them a small, carefully packed pot of soil and tell them to "water and wait"! All you need to do it plant the beans under a very thin layer of soil so that the recipient can't see them.
They won't be expecting what is to come!
After a few days, the beautiful green sprout will burst forth from the pot revealing the magic message and bringing a look of complete surprise, wonderment (and even a tear of joy) to the lucky recipient.
Split Your Message Across Multiple Beans
Want to get clever with your messaging?
How about sending a message that would be too long to fit on a single bean?
A lovely tiny gift pot can comfortably fit 3-4 beans in an inspirational looking little cluster. Imagine how cool it would be as these beans grow together in unison, working together to send their message. For example:
"leave no stone" "unturned"
or
"dream without fear" "love" "without limits"
Send a Double Sided Bean
Many of our beans are double sided. Not only can the recipient turn the smooth, white, round beans in their hands looking at each side in turn to read the double barreled message, but when planted, each side of the plant will speak together! Like This:
"I love you" "to the moon and back"
What's not to love! Grab some magic message beans today.
Personalised Corporate Gifts

Show your clients or employees you appreciate them, celebrate a milestone or simply say "thank you". A personalised magic bean growing kit is a unique way to nurture business relationships.

Personalised Corporate Gifts

Eco-Friendly Promotional Products

Whether it's product launch, trade show, or any other event - magic beans are a sustainable way to promote your business. What could be friendlier to planet Earth than a seed?

Eco-Friendly Promotional Products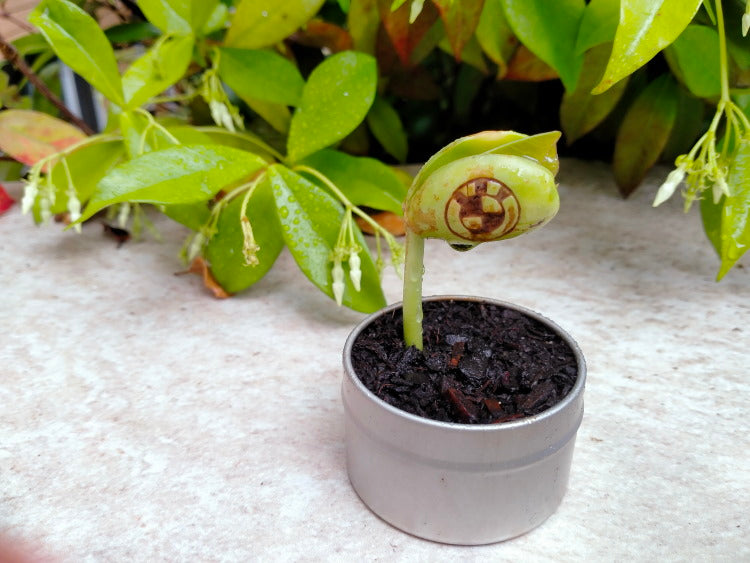 Want to see your logo on a talking plant?
We work with schools, universities, charities, not for profits and organisations of all shapes and sizes.
The best beans are those that you envision yourself.
Whatever your mission or project, there's a bean here for you!
Explore Now